Welcome to Totalpro IT Solution
Totalpro IT Solution a Website and Application Development Agency is the Best IT Services Provider Company in Surat, Gujarat. We Provide all Type of Custom Website Development which includes Static Websites and Dynamic Websites. We have Expertise Developers and Marketing Team for Customizing Website, Digital Marketing, Application Development and Software Development.
Our Main Aim is to Satisfy Our Customers. So, we can build a long Business Relation. We are IT Company Provides Services which maintain Highly Quality and Bugs Free. Every Projects for Converting Leads to closing full projects we pass every stage by Interacting with Our Team. We apply our intensive Creativity and Comprehensive skills set to deliver high Quality Services that will Drive the Clients Sales and Increase their Customer Communication. We also ensure that all Our Website are Accessible to the World Wide Audience.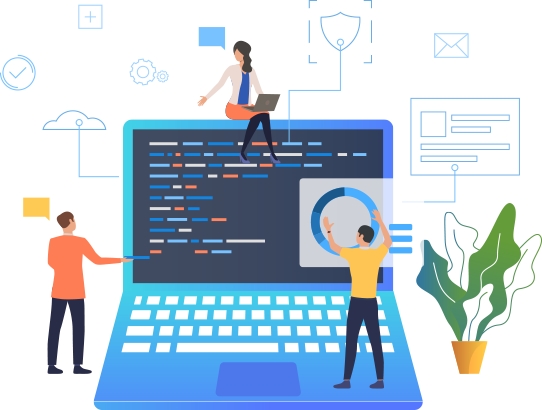 Totalpro IT Solution is the best website development agency and mobile application development company in Surat, India. We are rendering our services since 2015
Best and simplest work cycle
Serving a client over decade
We give our clients 24×7 Technical support.
Remain with latest technology
Come up with different ideas
Trust in quality and client satisfaction
SEO & search marketing news and chatter from Seofy. As well as these existing tools, we're in the unique position.
We love to adapt changes with technology to offer best solution to our precious clients with full satisfaction.
2015
A Brief History
We with the team of 8 people started our agency
2016
Expanding Team
With developing more than 30+ successful website in a year we expanded our team with 20+ website developers and mobile application specialist.
2017
Step towards International Market
By achieving a good amount of success in national level we launch our self globally.
2018
Building own Products
With giving excellent service to our precious clients we started working on our own application with innovative idea.
2019
Holding a Market
Our company shown a good graph in development with continuous growing we have launched our own commerce website and application and parallel we are working with some incredible clients.