10 Important Points to Consider while designing an eCommerce Website.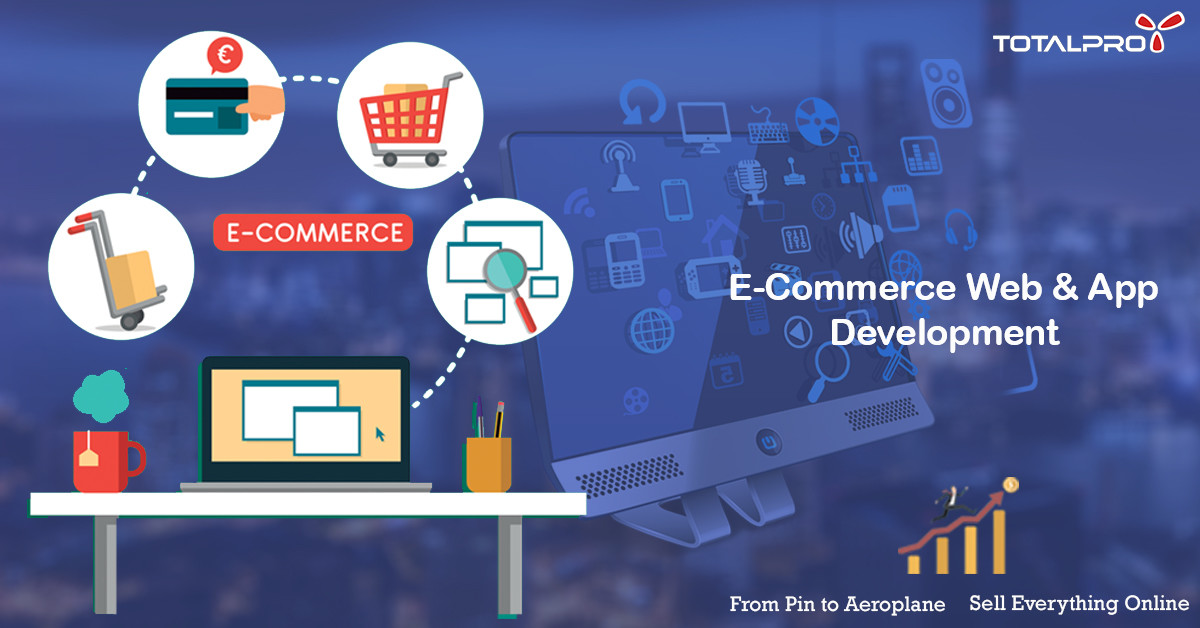 Everything is available online from a pin to airplane we search and compare price and features of commodities and products online. Therefore for those who wants to start their online business it is very important to design the website so that it is efficient and useful for customer. There are collections of things to take utmost care, from website performance to usability. We (Totalpro) Provide Customized E-commerce Website.
1: Match Your Design with Your Products
 designing and making UI/UX everything from theme selection, images, color schemes, fonts to text, perfectly describes your business or service. For example, If your website is selling Indian Ethnic wear, your design should traditional and royal. And if your website is selling toys, the theme of your design should look cheerful and colorful.
2. Proper Product Showcase and Descriptions
The major role of your website is to showcase your product perfectly. When describing items, use high-quality images that will give the clear look and feel of your products. Better quality images gives better understanding. By showing larger pictures, your online customers can feel how well the product looks in real.
Describe your products correctly and in detail, because, you have to give feel and details of product so that they can imagine the feel touch size and shape of the product as they cannot touch like any offline shop. You have to give them a proper product imagination into your customers head.  Details could be dimensions, color, size, weight, thickness, type and all the necessary instructions of handling and using before they purchase.
The sole purpose of the online shopping is to get products easily without any hustle of going store and taking time for interaction with salesman and wasting time in ordering and payments process. People love to go for online shopping and see the free perks like free or cheap shipping. High Delivery Charges means " I could have bought this at local store if I have to pay this much high for this item" while low shipping means that "I have no issues to pay some extra just to get product delivered at home".
There is one really important feature which has to be taken care of while designing flow and theme for eCommerce is Shopping cart. An efficient shopping to add more than one product, review order, or remove items as simple  as possible. When designing a shopping cart, it's important that you include functional product images, offers and added charges view.
I recently made a very simple online boutique where the shopping cart is simple and elegant and It includes all the necessary features like simple and 3 step payment process with product details and review options.
It is really important that users register before they order anything from the website. It is important because it enables to keep record of user orders keep track of their purchase, Wish List, Demands and Taste. But when it comes to fast and instant order flow, customers do not prefer making and verifying their accounts. So, it is very important feature now a days to give them a freehand to explore and order real quick.
Ideal checkout page should be easier, simpler and faster processing flow. It should be kept in mind while designing eCommerce that if the transaction is instant the user will be impressed with the website and checkout speed. Other important feature include incognito transactions and they want to be anonymous in any possible scenario so we should take care
for Easy and fast checkout process with most possible secure and more simpler checkout will motivate user for more repeat orders . Users are also fascinated with single page process or checkout which will increase the possibility of users to come and over for more online orders.
Whatever your business type and products one thing that user annoys is the limited payment options.
If you give your users wide range of payment and wallet payment options they are ready to be a part of your business for a longer period. There will be a larger group you can target with multiple payment options and possibility of losing customer because of forced payment option will also decrease.
8. Support and Contact Information
Support,Support,Support. This is what the world is going crazy for. If your business is ready to cater large number of audience you need to be ready to provide all the type of support and communication option that will increase customer loyalty and your business will earn a great review for after and before sales support. Giving users multiple options like chat, Call, Text, Mail or any other medium to stay in touch. They are ready to trust you for more business.
9. Keep your website Secure
The most negative feedback that a user can give about online eCommerce is security and lapses. All eCommerce website are the prime target for hackers to steal information and use it against users and website owners. If the user is paying your for the products they want complete security of their money, data and privacy. They are people who go to shops in real and search for good stores with cameras, Security and checks to give them satisfaction while purchasing from an offline store. The same feel they try to get while going online.
Social presence and integrating social review system in your eCommerce is a proof for your quality assurance approach.  When you give a freedom to your customers a to give reviews for your products and services it will create a feel of satisfaction for next customers who are looking for product and company reviews for better understanding of your services., it will also help you to maintain strict parameters for quality control and maximum satisfaction delivery as their reviews are the mirrors for your services and business to go for excellence.